This BBC News headline made me think this would make a good GWotD:
Panic hits Turkey bird flu town
And of course I can't hear the word
panic
without thinking of that great image from the Hitchhiker's Guide: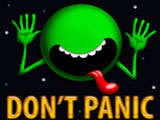 Info from etymonline.com:
panic (1)
"mass terror," 1603, as an adj. (with fear, terror, etc.), from Fr. panique (15c.), from Gk. panikon, lit. "pertaining to Pan," in sense of "panic, fright" short for panikon deima, from neut. of Panikos "of Pan," the god of woods and fields who was the source of mysterious sounds that caused contagious, groundless fear in herds and crowds, or in people in lonely spots. As a noun, first recorded 1708. Meaning "widespread apprehension about financial matters" is first recorded 1757. The verb is 1827, from the noun. Panicky is first recorded 1869. Panic button in fig. sense is first recorded 1955, the literal sense apparently is from parachuting.
-Tim